In this post, I will cover how to upgrade Windows 10 fast using the Microsoft WUA tool. This will put you on the latest version without having to wait for your PC to detect it.

Getting Windows 10 to update to the latest major version by using the built-in Windows Updates can be a little time-consuming. You sit and wait but Windows for some reason or another does not see the latest major version build.

Maybe it doesn't think that your PC is ready for it. Well here is the shortcut!
If you want the latest and greatest right now, here's how you can do it…
Forcing The Upgrade of Windows 10 To The Latest Version
Luckily, there is. I use the Microsoft tool, Windows Update Assistant. This Microsoft site holds the latest and greatest build that is released and ready for the public. Head on over to the Windows Update Assistant site and download the tool.

https://www.microsoft.com/en-us/software-download/windows10
Once the tool downloads, install it.

When the installation is complete, a desktop icon will be available.

Launch the application and a simple interface that asks you if you want to update.

Click "Update Now". Please note, if you aren't ready there is an option on the bottom left side. Just click "Do not update now" and the app will close. I do recommend doing a backup first before applying it as updates do not always go successfully!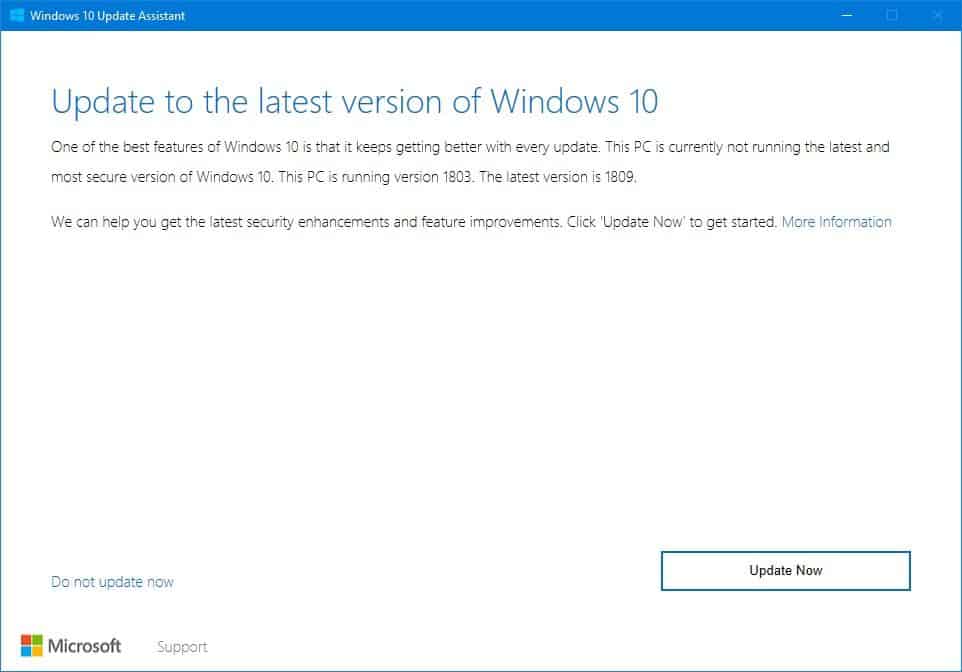 Once you click "Update Now" the app will run a check to make sure that the PC is capable and ready to update.  The only issue I have come across is an error stating that the disk space was too low and that the hard drive needed to have some more space free.

Other than that, you will get 3 checks and the Update Now button will change. Go ahead and proceed with the update. The app will download the latest build and then install the update for you.

Once it gets to its finish point, the Windows Update Assistant will ask you to reboot now. Beware that Windows will not wait days for you to reboot the PC.  A timer actually shows up and counts down 30 minutes.

So either reboot immediately, or let Windows do it itself. When the computer reboots it will finish the update and could possibly reboot several times.

Be patient with the Windows 10 upgrade and be sure to keep the PC powered on as cutting power could brick your OS installation and you would have to start over with Windows. That is a complete mess.

Once the update is complete, you will be taken back to the login screen and that is it! One thing you may not have noticed immediately is that Windows allocates quite a bit of hard drive space to apply the update to your PC. You can check out how to fix that on an upcoming post.