In this post I will show you how to reset Internet Explorer back to it's default settings.

This can be helpful if websites are not loading properly.

Doing this will put it back in a state as if you were just opening it for the first time. It will not remove any of your bookmarks but it will reset any add-ons and customization you have done to the browser.
Access Internet Explorer Settings
Open Internet Explorer if it is not open already and click on the gear icon in the top right section of your browser.
Internet Options
From the drop down menu, select Internet options
Once the dialog box for Internet Options opens, click on the Advanced Tab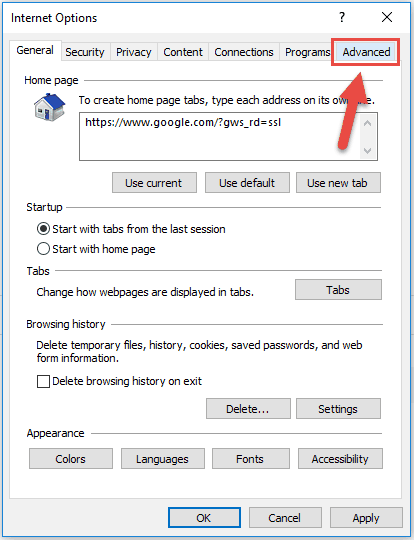 Now you should see towards the bottom a Reset button.  Click the Reset… button
Reset Internet Explorer Back To Defaults
The Internet Explorer Settings dialog box will now appear.  

You will want to put a check in the Delete personal settings box and click the Reset button.

***Please note that when you select that checkbox, you will reset Internet Explorer back to its default settings.  If you want to know what will be changed, please read the information below the checkbox.***
Click on the Reset… button in the status dialog box.
When your PC has completed the task, click on the Close button in the status dialog box.
The last final step is to reboot your PC for the changes to take effect.  There will be a yellow bar on the bottom of the page that will remind you of this.  Once you reboot your PC, you have successfully reset Internet Explorer back to its default settings.